Isabelle Quéhé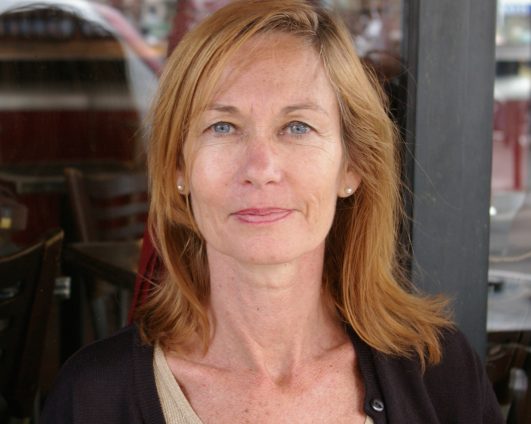 Isabelle Quéhé is an ethical fashion pioneer, who has devoted herself to developing the textile industry as well as its consumer's awareness.
She initiated and organised France's first ethical fashion show, which was followed by nine other in Paris between 2004 and 2012. From then on, she has organized more than fifty events in favor of challenging, different and responsible fashion.
In 2012, she conceived the exhibition "the flip side of my look, what impact do my clothes have on the planet?" to raise awareness amongt a younger audience on social and environmental impacts of their clothes. It was showed more than thirty times in public places across France. This exhibition will be translated in Arabic and presented at the Youth Space with COP22's green zone.
During COP21 in 2015, Isabelle Quéhé rallied 200 fashion, textile and clothing industry players to sign a commitment charter entitled "Changing fashion for the sake of climate". This charter will also travel to COP22 to collect more signatures during a dedicated side-event.
Tireless and creative, Isabelle just launched a new project : "Parures" which brings traditional craftsmanship from around the world and inventiveness of Haute-couture together. Select pieces will be exhibited at the Royal Theater of Marrakech during COP22.
Isabelle Quéhé is a board member for the "Fashion Revolution Day France", an international annual demonstration commemorating the collapse of the Rana Plaza clothing factory in Bangladesh. She is also a member of "The French Bureau, experts of responsible fashion" collective.
---
Isabelle Quéhé est une pionnière de la mode éthique, qui se consacre depuis vingt ans à faire évoluer le secteur du textile, ainsi que la prise de conscience des consommateurs.
Elle est l'initiatrice et l'organisatrice du premier salon de la mode éthique en France, l'« Ethical Fashion Show », qui a eu neuf éditions à Paris, de 2004 à 2012. Depuis, elle a organisé plus d'une cinquantaine d'événements en faveur d'une mode exigeante, différente et responsable.
L'exposition « Le revers de mon look, quels impacts ont mes vêtements sur la planète ? » qu'elle a conçue en 2012 pour sensibiliser un public jeune sur les impacts sociaux et environnementaux de leurs vêtements, a été montrée plus de trente fois en France dans des lieux publics. Pour la COP 22, cette exposition est traduite en arabe et présentée sur l'espace Jeunesse de la zone verte.
Lors de la COP21 en 2015, Isabelle Quéhé a mobilise 200 acteurs du secteur textile et habillement autour d'une charte d'engagement « Changer la Mode pour le Climat ». Cette charte est aussi au rendez-vous de la COP22 avec un « side event » dédié.
Inlassable et créative, Isabelle vient de lancer un nouveau projet, « Parures » qui allie savoir-faire traditionnels du monde entier et en inventivité de la haute couture. Quelques pièces seront présentées au Théâtre Royal de Marrakech pendant la COP22.
Isabelle Quéhé est membre du bureau français du Fashion Revolution Day France, un mouvement international qui commémore chaque année l'effondrement du Rana Plaza au Bengladesh. Elle fait aussi partie du collectif «Le French Bureau, les experts de la mode responsable ».