Sanae Bentahar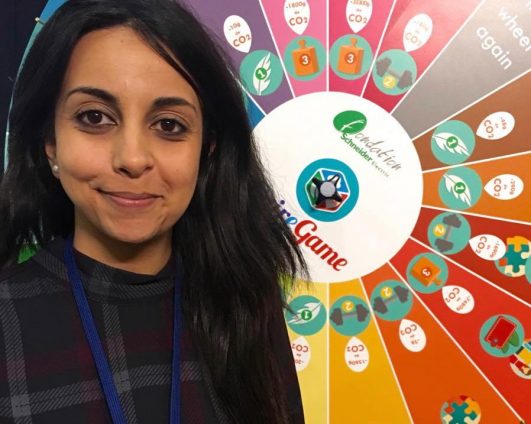 PhD candidate in Law and environmentalist, Sanae Bentahar joined Art of Change 21 team in 2016 to pilot the launch of the Arabic version of the website CAiRE GAME for COP22. CAiRE GAME is the action of Art of Change 21 for the reduction of individuals carbon emissions, that already exists in French and English.
Sanae piloted research on sustainable lifestyles and energy efficient habits of North African citizens, and identified, in collaboration with experts, key levers for reducing energy consumption and environmental impact. CAiRE GAME in its Arabic version includes 150 specific actions to change lifestyles to a "low-carbon" diet and thus fight against global warming.
After graduating from the University of Toulouse Capitole, she obtained a University certificate in Contracts Law at Harvard Law School in 2016. Born in Morocco in 1985, Sanae currently lives between Toulouse and Rabat.
---
Doctorante en Droit et environnementaliste, Sanae Bentahar rejoint l'équipe d'Art of Change 21 en 2016 pour piloter le lancement au Maghreb de la version arabe du site internet CAiRE GAME à l'occasion de la COP22. CAiRE GAME est l'action d'Art of Change 21 en faveur de la réduction des émissions carbone des particuliers, qui existe déjà en version française et anglaise.
Sanae a piloté les recherches sur les modes de vie et les habitudes éco-énergétiques des citoyens marocains et du Maghreb, et a identifié, en collaboration avec des experts, les principaux leviers de réduction de leur consommation énergétique et de leurs impacts environnementaux. CAiRE GAME dans sa version arabe propose 150 actions ponctuelles pour faire évoluer les modes de vie vers un régime « bas-carbone » et lutter ainsi contre le réchauffement climatique.
Sanae a une double formation universitaire en France et aux Etats-Unis. Née à Rabat en 1985, elle vit actuellement entre Toulouse et Rabat.