Helena Molin Valdes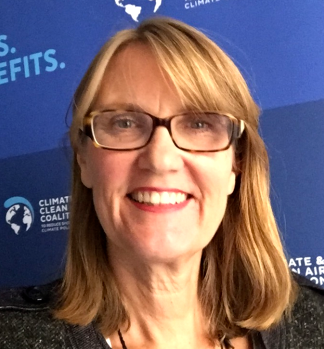 Head of the Secretariat, Climate and Clean Air Coalition (CCAC), UNEP, Helena Molin Valdés is an experienced leader within the United Nations system and a long-time proponent of sustainable development, climate change mitigation and adaption, and disaster reduction.
Ms Molin Valdés has authored, co-authored or coordinated many papers, handbooks, global reviews and reports on local development, sustainable development, disaster risk reduction and resilience. She has worked extensively with both UNEP and the Intergovernmental Panel on Climate Change (IPCC) and has organised and led international delegations and events, including at RIO+10, Rio +20 and several of the UNFCCC COPs.
Ms Molin Valdés has been instrumental in making the United Nations Office for Disaster Risk Reduction (UNISDR) an important force in global disaster management.
---
Helena Mollin Valdé s dirige le Secrétariat de la Coalition pour le climat et l'air pur (CCAC) au sein de l'ONU Environnement depuis 2013. La CCAC a pour objectif de réduire les polluants à courte durée de vie ayant un effet sur le climat. Ces polluants sont des substances telles que le carbone noir, l'ozone troposphérique, le méthane et certains hydrofluorocarbures (HFC). Leur enjeu est immense : leur réduction drastique, couplée à celle du CO2, permettrait de maintenair l'objectif des +2°.
Helena Molin Valdés a une longue expertise sur le développement durable, l'atténuation et l'adaptation au changement climatique et les catastrophes naturelles.
Elle a dirigé le Bureau des Nations Unies pour la réduction des risques de catastrophes (UNISDR) dans le domaine de la gestion globale des catastrophes. Elle a collaboré à l'organisation de la Conférence mondiale pour la réduction des risques de catastrophes à Kobe, au Japon en 2005.
Auteur de nombreuses expertises sur ses thématiques de prédilection, e développement local, le développement durable, la réduction des risques de catastrophe et la résilience, elle a organisé et dirigé des délégations et des événements internationaux, y compris RIO +10, Rio +20 et plusieurs Conférences des parties (COP) et Conventions-cadre des Nations unies sur les changements climatiques ( CCNUCC).
D'origine allemande, Helena Molin Valdés est architecte de formation, titulaire d'un diplôme en architecture et urbanisme de l'université de Lund.